Lead-in paragraph
Puistola Service Home has more than 100 apartments for elderly people and a group home for people with memory disorders.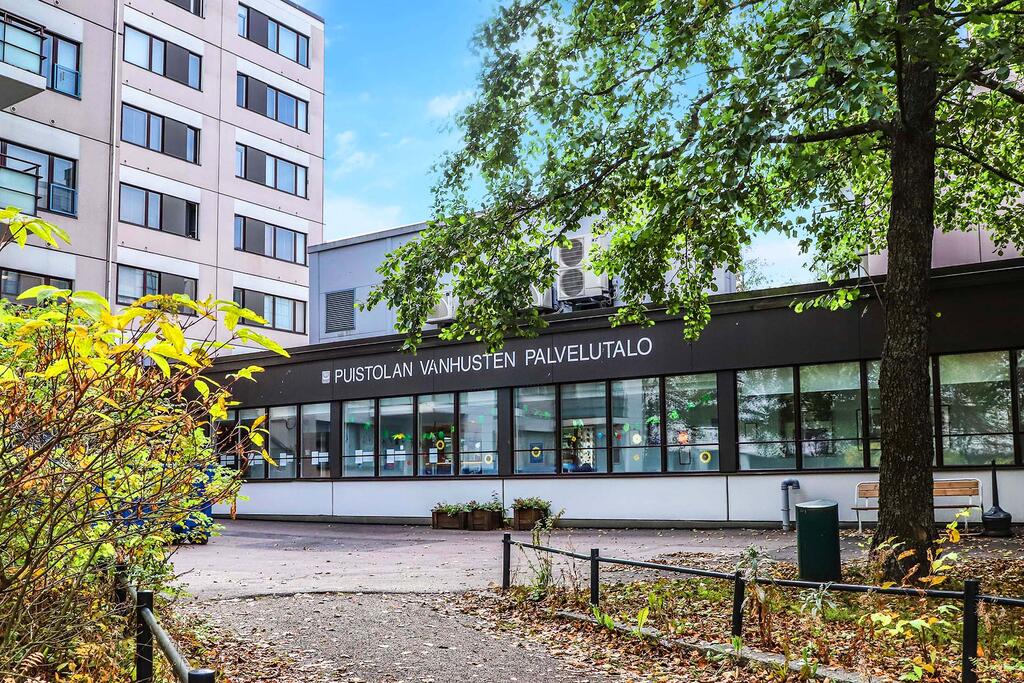 We provide elderly people with support for independent and safe living. We can be your home for the rest of your life.
Most of our apartments are one-room flats. Our residents also have access to common, comfortable recreational spaces.
Our team includes nurses, practical nurses, physiotherapists, occupational therapists, as well as social and cultural instructors.
Our facility is easy to reach by train. Our restaurant Taskunauris is open to everyone.
We are part of Kustaankartano Senior Centre.
Contact information
Finnish
P.O. Box 75790, 00099 City of Helsinki
Location
Aksiisipolku 1 B

,
00750
Helsinki
The route to the main entrance
The pick-up and drop-off area is located in the vicinity of the entrance, giving easy access to the pavement.
The route to the entrance is smooth and sufficiently wide and illuminated.
The main entrance
The entrance is hard to perceive but illuminated
The doors connected to the entrance stand out clearly. Outside the door there is sufficient room for moving e.g. with a wheelchair. The door opens automatically with a button.
The entrance has thresholds over 2 cm high.
In the facility
The customer service point has 6 floors.
For moving around, there is a lift, which can hold a wheelchair that is difficult to perceive, with little room in front of it; the door opens automatically. The floor numbers in the lift can be felt with fingers. The button for the exit floor stands out from the other buttons. (The minimum dimensions for an accessible lift are width 1.1 m and depth 1.4 m.)
The doors in the facility stand out clearly.
The facility has an accessible toilet on the entrance floor.