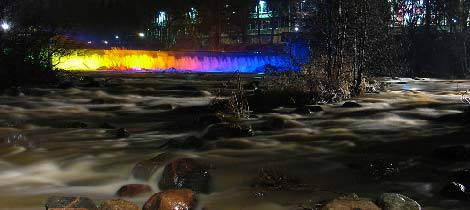 What is this?
Helsinki region 2050 project creates a shared vision for the region's fourteen municipalities - for the first time in history. The first stage of the project started in 2007, when the municipalities, Ministry of the Environment and Finnish Association of Architects held an international planning competition Greater Helsinki Vision 2050. The prized entries gave new and unprejudiced solutions for the development of the region's living, land use and traffic challenges. The prized entries are now available for commenting and re-development, and will form the vision for future Helsinki region. This is an unique project, which merges the views of experts and residents about the future of the metropolitan area.
You can comment and contribute
Online until the end of 2008, the Helsinki region 2050 website will introduce the fruits of the competition and the re-developed vision work of the region. Also residents of the region have an unique opporturnity to contribute to the development of their own living areas, by commenting and re-developing the prized entries. The comments of the residents will be included in the process, in which a new vision for Helsinki region is created. Therefore, this is an unique opporturnity to affect on how you will be living in 2050.
Where will new living areas be built? To whom the city belongs to? Will we travel by car or train? Among other things, these are the questions you can answer by re-developing the competition entries in the "Contribute and comment" section.
Why?
At the moment the Helsinki region is facing gigantic challenges of global warming and population ageing. Amongst other things, mobility, the location of services, the rise in energy prizes and diversity in family and living forms are challenges, to which the municipalities of Helsinki region are looking solutions from experts and residents.
Increasing the colloboration of the municipalities is important in a metropolis, where the residents already move across boarders in search of work, shopping and hobbies. Also preserving and incrasing the region's competitiveness demands colloboration and shared aims of the municipalities.
The competition entries and the comments gathered from the residents, will form the base for the vision work, giving an videa of the needs and demands for the future Helsinki.
Have an influence on your future

Emission card? Road tolls? Shop-on-rail? Tunnel to Tallin or Stockholm? Tax breaks for zero emission areas? Independent local goverment? The future of Helsinki region is determined now.

Greater Helsinki Vision 2050
Greater Helsinki Vision 2050 was an open international design competition for developing the Helsinki region. It was internationally notable in the placing of target, the size of the planning area and prize sum. The first prize was 160.000 euros and all together half a million euros were given in prizes.