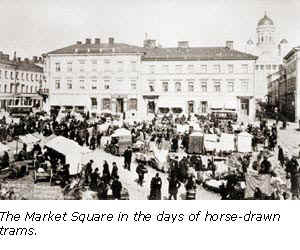 In the early 1880s Helsinki was a small town with a population of 43,000 where people could generally get from place to place on foot. In the 1880s Helsinki was much smaller than it is today. People mainly lived in the Hietalahti, Kruunuhaka, Ruoholahti and Kamppi districts. Development was just getting under way in Kallio.
The only vehicles were horse-drawn cabs and omnibuses. The city continued to grow and industrialize, however. People needed a fast and inexpensive form of transport. Horse-drawn trams were placed in service in 1891 and electric trams in 1900.
| | |
| --- | --- |
| Finland was in the vanguard of electrification in Europe. Electric light was tried in Helsinki as early 1877, next to the Railway Station. Light was produced by a dynamo made in Paris. Helsinki's first power plant went on line in 1884. | Power was distributed from the Grönqvist house at Pohjois-Esplanadi 25-27. To begin with electricity was used to light shops in the city centre. Power was generated by private firms, which competed fiercely with one another. The city established its own electricity department in 1909. |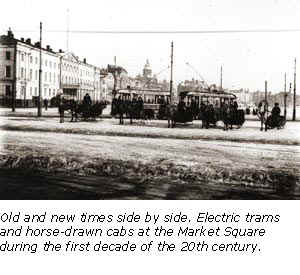 "Yesterday the miracle began travelling between Töölö and Hietalahti - on a temporary or trial basis for the time being. I refer to electric trams which run without help from horses or steam but with a steel pole extending upwards to catch current..."
"The tram picks up speed, along the pavement a crowd of people stand gaping at the novel sight, dogs bark and the driver rings his bell furiously. But the greatest curiosity is shown by horses coming in the opposite direction. With their front legs in the air they stare inside the tram windows..."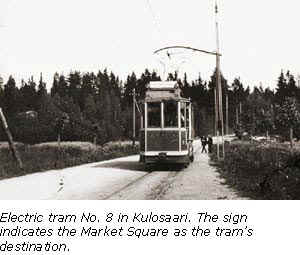 "When the tram starts up again, the pole on the roof gets itself tangled. The conductor tries to remedy the problem, pulling the strap, and another conductor shouts for him to pull harder. While the passen-gers watch, the tram suddenly comes to a halt. I see how complete strangers are thrown into each other's laps, the driver is bent double outside the car and I myself do not know which end is up..."
This writer's first ride in an electric tram, reported in Päivälehti, was quite an experience. Trial services began between Ruusula and Hietalahti on 4 September 1900.