1–6-year-olds
On these pages, you will find information on services intended for families with children below school age. The pages also provide reliable information on children's development and tips for solving the everyday problems of a family with children.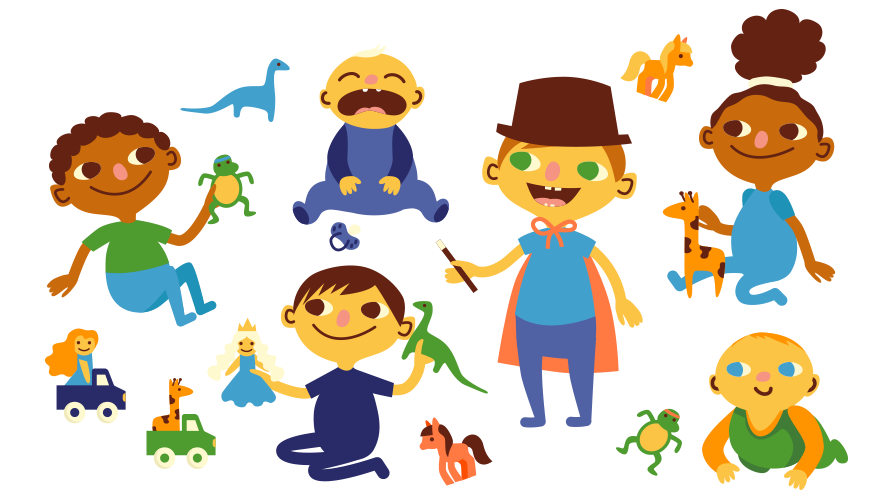 Children who have passed the infant stage are also referred to as toddlers or preschoolers, depending on their stage of development. Preschool age, or play age, is considered to end when the child starts attending school.
Families with young children often face worries and even crises, some of which may be related to the child's stages of development. The section 'Growth and development of children' contains information on the different stages of life and development of children.
Preschoolers are physically and functionally active. Children have an innate need to move. This is also a prerequisite for their normal physical growth and development. Genuine interaction and social relationships are also important for children's development. You can read more about the physical development related to each age group on Vanhempainnetti, a website for parents maintained by the Mannerheim League for Child Welfare (MLL). For more information on the importance of interaction, see the section on speech and language development.
The joys and sorrows of life are often everyday occurrences, and other families also encounter similar situations. The section 'When a child falls ill' contains information on the most common children's illnesses, in addition to key contact information. The section 'Everyday challenges' contains information on the most typical worries encountered by families with young children and provides solutions to them. On the page 'Setting boundaries', you can find support for setting clear and consistent rules. The page 'Lack of networks and support' contains tips for interacting with other families and finding professional help.
Everyday life also holds many opportunities for the whole family to do something together. The section 'Activities with children' contains information on various events, activities and travel destinations. Many families may have questions regarding early childhood education and day care. Comprehensive information is available on various options in the section 'Child in day care'.
The parents' own or the family's shared worries and stress may prolong the time it takes to get over stressful situations in daily life. The 'Crisis in the family' section provides information on various hardships and how families can cope with them. It is important that you take care of your own mental and physical well-being. You should not, and do not have to, remain alone with your worries. You can seek relief for your daily life through electronic or telephone services, for example.
The whole purpose of the Family support website is to gather reliable information on different services available for families with children in Helsinki in one place.
27.06.2018 10:22