Koivusaari metro station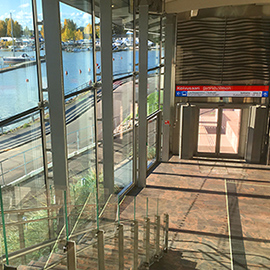 Koivusaari station is, as far as its designers know, the only undersea metro station in the world. It is located south of Länsiväylä, between Lauttasaari and Koivusaari. Finland's longest escalator takes people from the platform area to the ticket hall.
The marine atmosphere of the station was designed by Helin & Co Oy architects.
A guide map of the metro station and its local area (PDF)
Street address of the station:
Sotkatie 11, 00200 Helsinki