Stoa goes Wild! Elojuhla
Thu – 22:00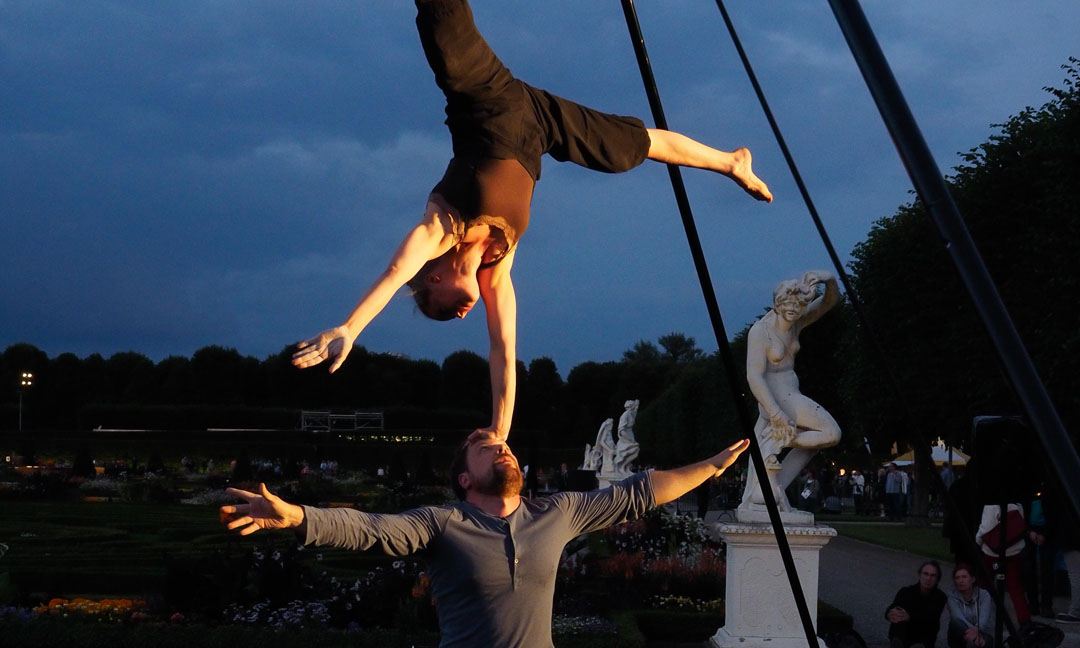 The autumn season opening and Runokuu for children take over the Stoa plaza. The programme features music, theatre and workshops to tickle the senses.
The modern circus show by Agit-Cirk, Tenho, brings alive the magical circus of the past: strong men, Chinese chair tricks and pair acrobatics. In the family art workshops, visitors can paint lightning and sculpt natural phenomena out of clay.
PROGRAM:
17.15 & 19.15 Agit-Cirk: Tenho Outdoor
Contemporary circus phenomenon Tenho will perform circus tricks from the past! Real srongmen, acrobatics.. Agit-Cirk is full of surprises and wonder.
25 min
For all ages
17.30 Uulun liikkuva lastenkulttuurikeskus: Pollinating!
Uulu's bio diversity series' third part. The concert goes on a journey around Europe's beautiful meadows and get to know Europe's musical traditions and fluffy buzzing bugs! Without these little buzzers, the world would be in trouble, bzzzzz!
For the children of 3-6 years old
45 min
18.15 MeNiños
MeNiños is a multicultural/multilingual music band for children that aims to integrate families of diverse cultures through music.
The sounds of harp, guitar, percussion and voices singing in multiple languages (Spanish, English, Finnish, Portuguese) meet rhythms from various parts of the world. The audience gets to participate in the music through song and rhythms.
Musicians:
Natalia Castrillón (Colombia) - Voice & lever harp
Tomas Takolander (Finland) - Voice & guitar
João Luís (Portugal) - Voice & percussion
17-20 Non-stop workshops @ plaza
Hunajainen hetki – organic skincare products, plaza
In this workshop we make skin care products from beeswax. Suitable for everyone.
Braid's gone wild – Jenni's Hairdays
Jenni´s Hairdays', Jenni Petänen makes the coolest braids for the party!
One hundred bolts - art workshop for families, plaza
Unleash your crazy inner artist with your child and learn how to paint thunderbolts and different natural phenomenons out of clay.
In this workshop we'll discover different methods of self-actualization. Suitable for everyone who's not afraid
of getting dirty, is able to hold a painting brush and not tempted to eat clay.
What's up World? - street art workshop
We paint messages to the world in the Freestyle-workshop! Make your own template and use spray paint.
Poetry bingo
Bingo! In this Nonstop- word workshop we write poetry based on bingo grid's ideas. You can write poems with your friends or
continue someone else's work.
As an animal
Nonstop-workshop where we relate to animal characters. How does the world look through cat's eyes?
17-19 Mini comic workshop
In the workshop we make our own comics, learn story telling and get inspired!
Everyone's welcomed!
Event price
Free entrance
Further information
Paikallismaisemia Festival
Suutarila Library
Paikallismaisemia Festival invites you to look at everyday landscapes from a different angle.
Paikallismaisemia Festival
Siltamäen uimahalli / Urheiluhallit Siltamäki
Paikallismaisemia Festival invites you to look at everyday landscapes from a different angle.