Herttoniemi Library

View larger map
Address:
Linnanrakentajantie 2
00880 Helsinki
Postal address:
Herttoniemi Library, P.O. Box 80455, 00099 HELSINGIN KAUPUNKI

Telephone: +358 9 310 85080
E-mail: herttoniemen_kirjasto@hel.fi

Opening hours:
Syksy 2022: Until Dec. 31, 2022
- Mon-Thu 8am-8pm
- Mon-Thu 8pm-9pm Self service
- Mon-Fri 7am-8am Self service
- Fri 8am-4pm
- Fri-Sat 4pm-7pm Self service
- Sat 7am-10am Self service
- Sat 10am-4pm
- Sun 9am-4pm Self service
Opening hours

,
Home pages »

Social media:
Facebook

Operated by:
Culture and Leisure Division, Culture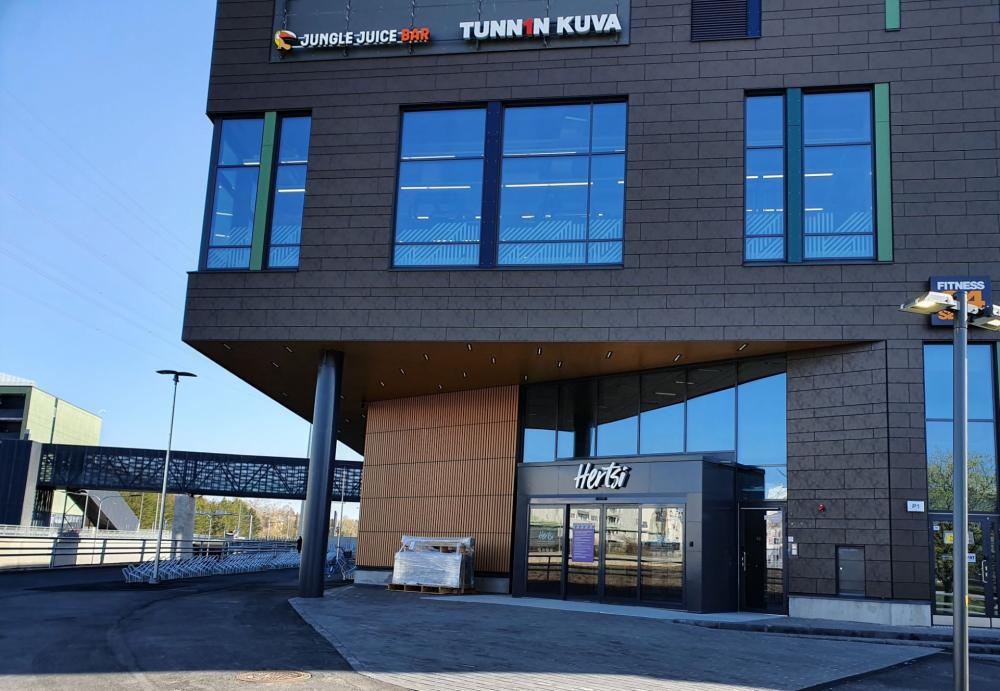 Accessibility
The route to the main entrance

The 3 accessible parking spaces are located in a parking hall over 10 m from the entrance. The width of the parking spaces is at least 3.6 m.
The parking hall has a lift, which can hold a wheelchair; the door opens automatically. The floor numbers in the lift can be felt with fingers. The button for the exit floor stands out from the other buttons. (The minimum dimensions for an accessible lift are width 1.1 m and depth 1.4 m.)
The route to the entrance is guided, smooth and sufficiently wide and illuminated.
The main entrance

The entrance stands out clearly and is illuminated. There is a canopy above the entrance.
The doors connected to the entrance stand out clearly and the glass doors have contrast markings. Outside the door there is sufficient room for moving e.g. with a wheelchair. The door opens automatically with a motion sensor.
In the facility

The customer service point is on the same floor as the entrance.
The customer service point has directions to the different facilities.
The doors in the customer service point are hard to perceive.
The waiting room of the customer service point has no queue number system. The customers wait standing up.
The customer service point has an accessible toilet on the same floor.
Suomeksi » | På svenska » | In English