Vuosaari Library

View larger map
Address:
Mosaiikkitori 2
00980 Helsinki
Postal address:
Vuosaari Library, P.O. Box 98455, 00099 HELSINGIN KAUPUNKI

Telephone: +358 9 310 85098
E-mail: vuosaaren_kirjasto@hel.fi

Opening hours:
Normaali aukioloaika:
- Mon-Thu 8.00-20.00
- Fri 8.00-18.00
- Sat 10.00-16.00
- Sun Closed
Date period: April 6, 2023 - 8.00-18.00
Pitkäperjantai: April 7, 2023 - Closed
Date period: April 8, 2023 - 10.00-16.00
Pääsiäispäivä: April 9, 2023 - Closed
2. pääsiäispäivä: April 10, 2023 - Closed
Vappu 2023: May 1, 2023 - Closed
Date period: May 17, 2023 - 8.00-18.00
Helatorstai: May 18, 2023 - Closed
Date period: June 22, 2023 - 8.00-18.00
Juhannusaatto: June 23, 2023 - Closed
Juhannuspäivä: June 24, 2023 - Closed
Pyhäinpäivä 2023: Nov. 4, 2023 - Closed
Itsenäisyyspäivä 2023: Dec. 6, 2023 - Closed
Date period: Dec. 23, 2023 - 10.00-16.00
Jouluaatto: Dec. 24, 2023 - Closed
Joulupäivä: Dec. 25, 2023 - Closed
Tapaninpäivä: Dec. 26, 2023 - Closed
Uuden vuoden päivä 2024: Jan. 1, 2024 - Closed
Opening hours


Home pages »

Social media:
Facebook , Instagram

Web sites:
Varaamo

Operated by:
Culture and Leisure Division, Culture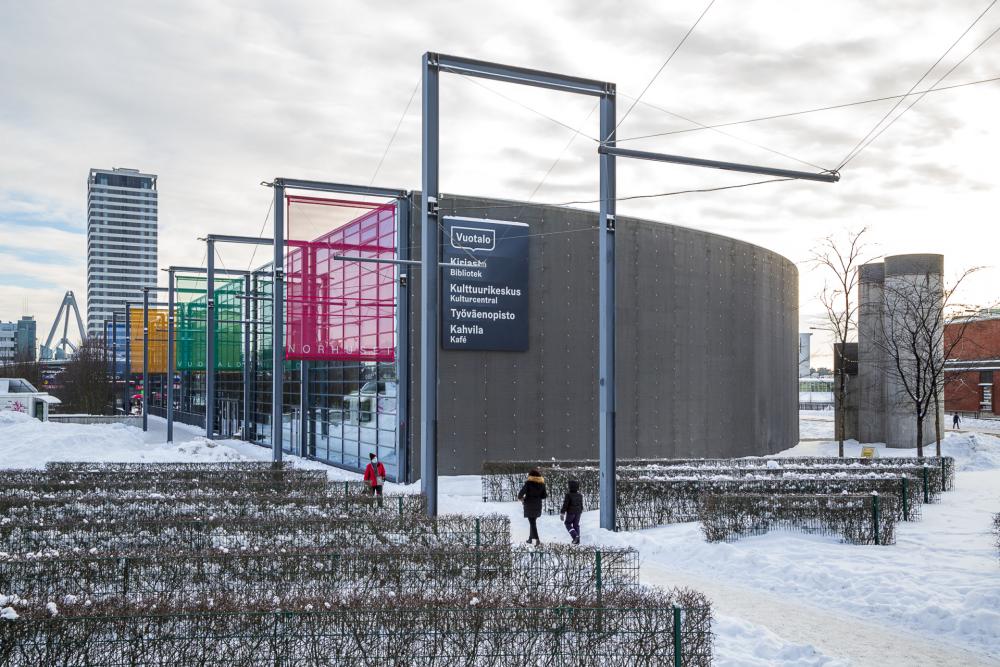 Accessibility
The route to the main entrance

The 2 accessible parking spaces are located outdoors over 10 m from the entrance. The width of the parking spaces is at least 3.6 m.
The pick-up and drop-off area is located in the vicinity of the entrance, giving easy access to the pavement.
The route to the entrance is guided, smooth and sufficiently wide and illuminated.
The main entrance

The entrance stands out clearly and is illuminated.
The doors connected to the entrance stand out clearly. Outside the door there is sufficient room for moving e.g. with a wheelchair. The door opens automatically with a motion sensor.
In the facility

The customer service point is on the same floor as the entrance.
The customer service point has directions to the different facilities.
The doors in the customer service point stand out clearly. The glass doors have contrast markings.
The waiting room of the customer service point has no queue number system. The customers wait standing up.
The customer service point has an accessible toilet on the same floor.
Suomeksi » | På svenska » | In English