Herttoniemenranta sports hall

View larger map
Address:
Petter Wetterin tie 5
00810 Helsinki
Telephone: +358 9 310 87898


Opening hours:
Exceptional opening hours: -
only by booking
Period 2.9. - 31.5.
Mon - Fri 16.30 - 22.00
Sat, Sun 9.00 - 22.00


Description:
Sports Services has 14 sports halls; ski hall, ball hall, Football hall. Sports halls offer many types of sports activities.

Other contact information:
facility supervisors
+358 9 310 87898

Manager
Jarkko Rantanen
+358 9 310 87000

Web sites:
Regulations and instructions , Reservation of sports facilities

Further information:
Sport events: Football, basketball, handball, volleyball, glidediscus, minibasketball, wrestling, floorball, gymnastics, budo sports.

Services: 5 customer dressing rooms, 1 officials' dressing room with lockers, 8 clothes and equipmen, lockers for clubs, 3 public WCs including one disabled WC.

Other info: Parking lot for 40 cars, in daytime, the facilities are used by the local elementary school, in the evenings and on weekends the facilities are mainly used by sports clubs.

Operated by:
Culture and Leisure Division, Sports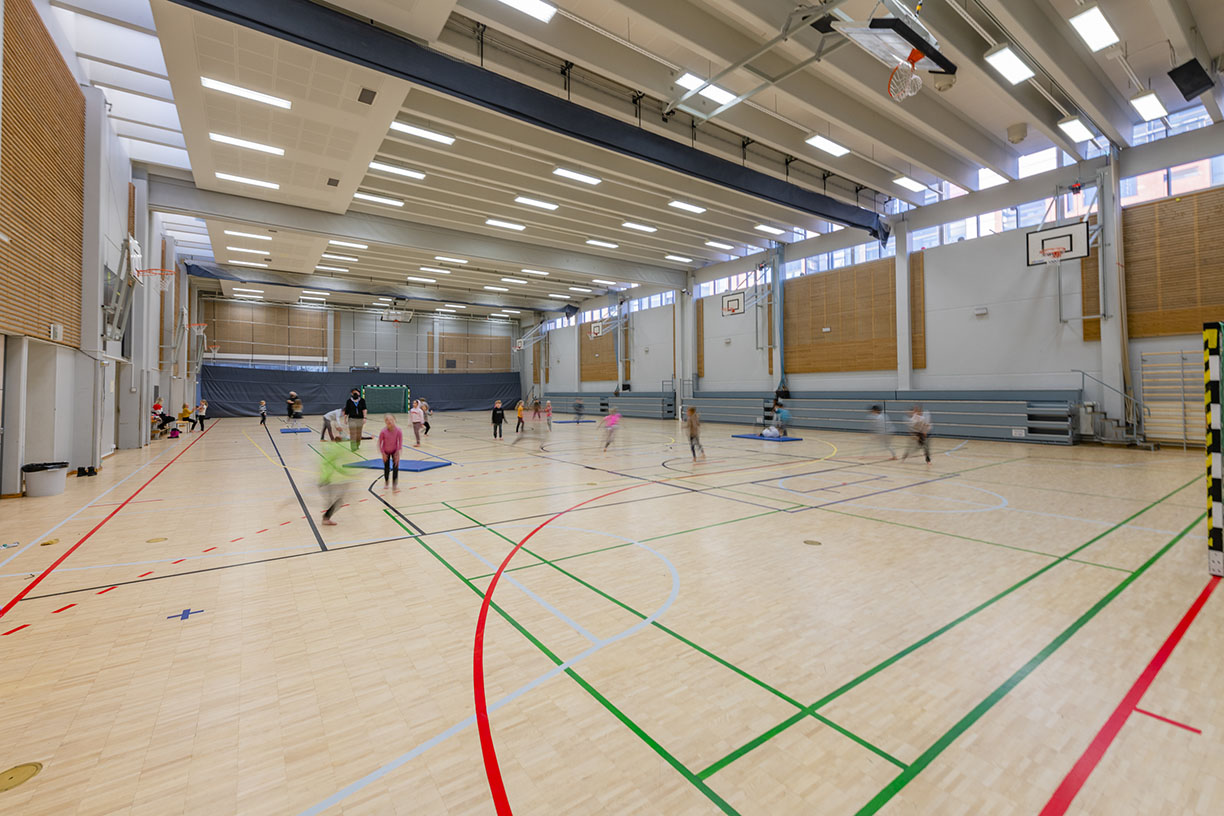 Accessibility
The route to the main entrance

The 3 accessible parking spaces are located outdoors over 10 m from the entrance. The width of the parking spaces is less than 3.6 m.
The pick-up and drop-off area is located in the vicinity of the entrance, giving easy access to the pavement.
The route to the entrance is smooth and sufficiently wide and illuminated and it uses movement-guiding surface material.
The main entrance

The entrance stands out clearly and is illuminated. There is a canopy above the entrance.
The doors connected to the entrance stand out clearly. Outside the door there is sufficient room for moving e.g. with a wheelchair. The door is heavy or otherwise hard to open.
The entrance has thresholds over 2 cm high.
In the facility

The entrance, sports facilities and dressing rooms are located on the same floor.
The service point has directions to the different facilities.
There is an accessible toilet in the lobby or nearby public area.
The customer service/cashier's desk can be found easily. The desk is accessible to customers standing only.
Dressing room, shower room and sauna

The facility does not have an accessible dressing room. The men's/women's dressing rooms must be used instead. The door of the dressing room opens easily manually and the doorway has a low threshold.
The dressing room has sufficient room for a wheelchair and assistant. An accessible toilet is connected to the dressing room.
The shower room is connected to the men's/women's dressing room. There is no separate door to the shower room.
The shower room has a more spacious and accessible showering spot.
The facility does not have a sauna.
Sports facilities

In the multipurpose sports facility, you can engage in sports such as aerobics, basket ball, dancing, floorball, football, handball, rhythmic gymnastics, volleyball.
The sides of the sports facilities/fields feature room for moving aids.
Seating area

The sports facility features a spectators' seating area which has stairs and the steps have contrast markings. The seats have been highlighted from their surroundings with contrast. The seating area has outlets for using and charging electrical aid equipment.
The seating area features 10 accessible spots suitable for a wheelchair, which are located in the front row. The accessible spots provide an unobstructed view of the event.
There is insufficient room next to the accessible spots for wheelchairs to pass each other.
Suomeksi » | På svenska » | In English