Playground Kaunokki

View larger map
Address:
Tuohipolku 10
00410 Helsinki
Postal address:
Playground Kaunokki, P.O. Box 41919, 00099 City of Helsinki

Telephone: +358 9 310 41587
Fax: +358 9 310 41341
E-mail: lp.kaunokki@hel.fi

Opening hours:
Leikkipuisto suljettu: Until June 4, 2023
- Mon-Fri - Closed
- Sat-Sun - Closed


Description:
Some play parks include playing fields, which are frozen in the winter to serve as ice skating rinks. Play parks also include ball game walls, balancing equipment, climbing nets and wading pools, which support sporting activities. Play parks offer opportunities for sports and games.

Home pages »
,
Operated by:
Education Division, Early childhood education and preschool education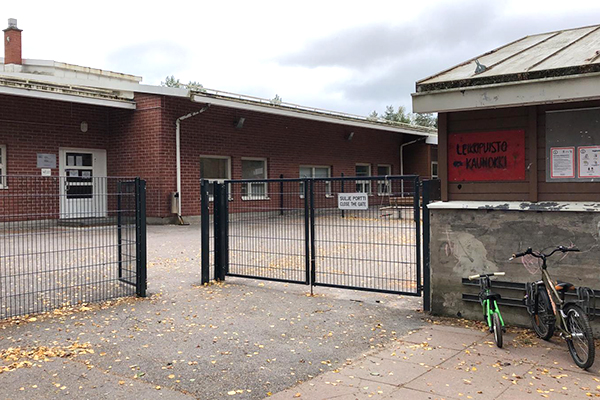 Accessibility
The route to the main entrance

The pick-up and drop-off area is located in the vicinity of the entrance, giving easy access to the pavement.
The route to the entrance is guided, smooth and sufficiently wide and illuminated.
The passage has 2 consecutive steps.
The main entrance

The entrance stands out clearly and is illuminated. There is a canopy above the entrance.
In connection with the entrance, there are 2 consecutive steps.
The doors connected to the entrance stand out clearly and the glass doors have contrast markings. The door opens easily manually.
The entrance has thresholds over 2 cm high.
The foyer is cramped.
In the facility

The customer service point is located on the same floor as the entrance.
The doors in the facility stand out clearly. The glass doors have contrast markings.
Suomeksi » | På svenska » | In English